Services
What better cross-pollination than helping supply chain people understand the challenges and opportunities of circular business models, and supporting sustainable entrepreneurs by getting grips on how supply chains are vital in running a business profitably?
Consult the overview below to learn more about my service portfolio.
And please don't hesitate to reach out to me with your questions.
TRAINING
Training is a vital process to make sure you and your teams keep the knowledge to a level where it both enables practical day-to-day process improvements and provides insights to look beyond your current horizon.
Years of consulting and training in a multitude of companies in different industries and for different audiences allow me to combine real-life project examples and business cases with academic fundamentals.
And I promise I will keep you energized and engaged throughout the sessions, using my energetic style and the appropriate dash of humor.

Training formats, delivery methods, and topics – short or long, with or without experiential learning based on business simulation games – are generally decided upon after a free intake discussion with the customer lead.
As a guide, you will find information on some typical training programs and their default delivery method behind the respective buttons below.
Training programs can be a mix of topics and delivery formats tailored to your specific needs.
SUPPLY CHAIN
Get trained in the concepts and methods needed to better understand and manage your supply chain. It's the backbone of your company, and it is crucial to know how to align operations with a longer-term strategy and the financial means available to support this. This becomes even more pressing when at the same time you are embarking on your own sustainability journey.
If you want to expand your knowledge on forecasting and demand planning, inventory management, supply planning, and strategic alignment through S&OP or IBP, this is where you need to be.
FIND OUT MORE
CIRCULARITY & SUSTAINABILITY
If supply chain management is a big domain of knowledge involving different expertises, circularity and sustainability are exponentially adding topics to the equation. Material and product design, carbon footprinting, legislation, life cycle assessments, circular economy and business models, non-financial reporting, and UN SDGs: those are just a few of the disciplines involved and it is easy to get lost in the jungle of institute, acronyms, metrics and methods. Using the business simulation games as a perfect starting point for exploring the complex matter, you and your teams finally see the trees for the wood.
FIND OUT MORE
SIMULATIONS
I strongly believe in serious gamification as a means to make training sessions and workshops more enticing and impactful. The value chain simulation games of Inchainge are so powerful in this that I decided to certify as a trainer for every one of them and give them an appropriate place in my training portfolio.
These business simulations are web-based and typically played in teams of 4 people, each of them picking up a specific role in a virtual company. Every player has to make decisions within their domain of authority. The teams need to learn how to collaborate and orchestrate each player's decisions. Throughout several playing rounds, they need to move the company's performance in the right direction, which depends on the theme of the specific simulation and the strategy chosen by the players.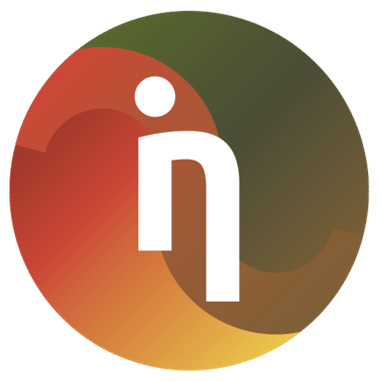 The Triple Connection
Main Theme:
Sustainability
In this latest simulation game, teams are challenged to make their virtual business perform on the 3 elements People, Planet and Prosperity – also known as the Triple Bottomline. Choosing wisely because of a limited budget and adhering to a clear strategy covering 13 out of the 17 UN SDGs will be key in reaching the sustainability ambitions of this chocolate milk manufacturer.
The Blue Connection
Main Theme:
Circular Transition
In this simulation game, teams learn to start the circular transition journey of a virtual bike manufacturing company. They do this by implementing practices such as lifecycle extension and buy-back programs, reducing raw material usage through refurbishing and recycling, and changing product design.
The Cool Connection
Main Theme:
Finance in Supply Chains
Here, teams gain valuable insights into how supply chain decisions and the financial performance of a virtual cosmetics manufacturing company are interlinked. If you want to learn more about Integrated Business Planning, for instance, this is an ideal starting point.
The Fresh Connection
Main Theme:
Supply Chain Management
The original game in their portfolio. This is the perfect way to learn how participants playing different roles (sales, purchasing, operations, supply chain) need to collaborate as a team and decide on the right strategies and balance to bring this virtual fruit juice manufacturer's ROI back to positive numbers.
MENTORING
Don't expect a delivery of stuffed spreadsheets and a bulky slide deck: my approach is to guide you with my experience into finding the right direction to take by yourself. This also includes proper references to experts within my growing network for specific parts of the challenges outside my domain of expertise.
Consider it to be a combination of strategic discussions, workshops, project management, knowledge transfer, and that extra capacity in brain space.
Through a first intake session, we jointly design a first draft of the collaboration and commitment.
And then take it from there.
SUPPLY CHAIN
Supply chains are the backbone of any company that is moving goods., but also for many companies providing services. However, too often supply chains just come into existence by accident, and not by purpose. This is all the more true when you're starting small with an innovative product or service and then going through a scale-up phase.
Planning and designing your supply chain early enough in that exciting phase will bring many advantages and even protect you from making dire mistakes.
But that requires some knowledge and experience, and certainly a portion of supply chain lingo.
Let that be exactly what I can help you with.
CIRCULARITY & SUSTAINABILITY
The circular transition and the quest for sustainability is a path with many challenges and opportunities. How can they be integrated into your existing business models and supply chain? Or what is needed to alter towards new circular business models and how will that affect my supply chain operations? What are possible low-hanging fruits and what are the longer-term realistic ambitions?
Next to that: what is mandatory to prepare for, by EU and national/regional directives? Are there any non-financial reporting requirements and if so, how do we make sure we can deliver? Who needs to be involved to get all this done?
Let's have a first look at your end-to-end supply chain. And then take it from there.
A few things up my sleeve…
SUPPLY CHAIN EXPERT
Worked at the Port of Antwerp, as a process engineer for VAS in logistics, as a supply chain planning consultant, and as a trainer on supply chain management and strategy. I guess that's a way to acquire a broad base of supply chain expertise.
CIRCULAR AMBASSADOR
I always have been intrigued by and a big defender of ecology, sustainability, and circular material flows.
I recently followed the Circular Ambassador Program from Flanders Circular, and am now fully at your disposal to help you on your circular journey!
TRAINER AND SPEAKER
Been giving numerous training sessions on supply chain topics over the last years, to various audiences in different industries. I seem to be appreciated for my not-too-academic approach and my energetic style, accompanied by the occasional dash of humour.
A TOUCH OF GEEKNESS
Wrote my first piece of code when I was twelve, studied software development, managed databases and server infrastructure, used and configured many applications for various purposes… The list is pretty long.
LET'S CONNECT
Contact me
Any questions, remarks or suggestions: shoot!
Or, of course, invites to get to know each other…
+32 476 465 756 | mail@sachadebacker.eu
Square Root of Pi VOF
BE0788.652.461
CSCP – APICS/ASCM
Certified Supply Chain Professional
APICS
CPIM – APICS/ASCM
Certified in Production and Inventory Management
APICS
Prince2© Foundation
Project Management
In-house
EXECUTIVE MASTERCLASS SUPPLY CHAIN MANAGEMENT
2012 – 2013

Vlerick Business Management School
Ghent, Belgium
SOFTWARE DEVELOPMENT
1996 – 1999
SEI-BKR (evening courses A1 graduate)
Antwerp, Belgium
PRODUCT DESIGN
1992 – 1994
Henry van de Velde-Institute
Antwerpen, Belgium
Languages I operate in…
Let's not get lost in translation
LIFE IS MORE THAN WORK… OBVIOUSLY
Extra-Curricular
We live, we work… but we also engage in other stuff. Below, I've listed the top three worth mentioning.
Coderdojo
Volunteer Coach
Let kids discover technology
2017 – 2020
Stichting Zondag!
Founder and Active Member
Supporting performance artists
2004 – 2009
Trash The Garbage
Personal Initiative
Sensibilisation on litter
1999 – 2005
A SITE WITH A PURPOSE
Time for a new chapter!
Hi, my name is Sacha and I decided it is time to start a new chapter in my professional career. I'm eager to put all my accumulated experiences into one of the world's current biggest challenges: making sure that future generations still have this wonderful, beautiful place called Earth to peacefully, purposefully, and happily live on in prosperity, relishing all its splendor, beauty, awesomeness, and resources.
Therefore we need to take care of this pale blue dot. Without a doubt, this means we'll have to evolve towards a sustainable way of supporting our growing communities. The current predominant take-make-waste economy reflected in linear supply chains puts us and future generations at the risk of running out of resources of all kinds – a clean and livable environment not being the least of them. That modus operandi is destined to end and be replaced by a circular economy. Though I may not be the vetted specialist in sustainability and circularity (yet), I always had more than a keen interest in the subject and I'm pretty sure that – amongst some other skills that I have up my sleeve – my supply chain, consulting and training experience combined with an imaginative and creative mind provide more than enough basis to make meaningful contributions to a coordinated transition. Because I am convinced that in the supply chain domain lies a vast amount of impactful work that can and should be done. Changing the focus from mere supply chain optimization to supporting the circular transition would redefine the purpose of the next two remaining decades of my professional career – and it would feel a bit like coming home to me. It would close the loop for me in a very personal way; just check the Trash The Garbage extra-curricular and it will probably make some more sense to you. It's that level of engagement towards sustainability that I wish to return to – but then a tad older and hopefully a lot wiser.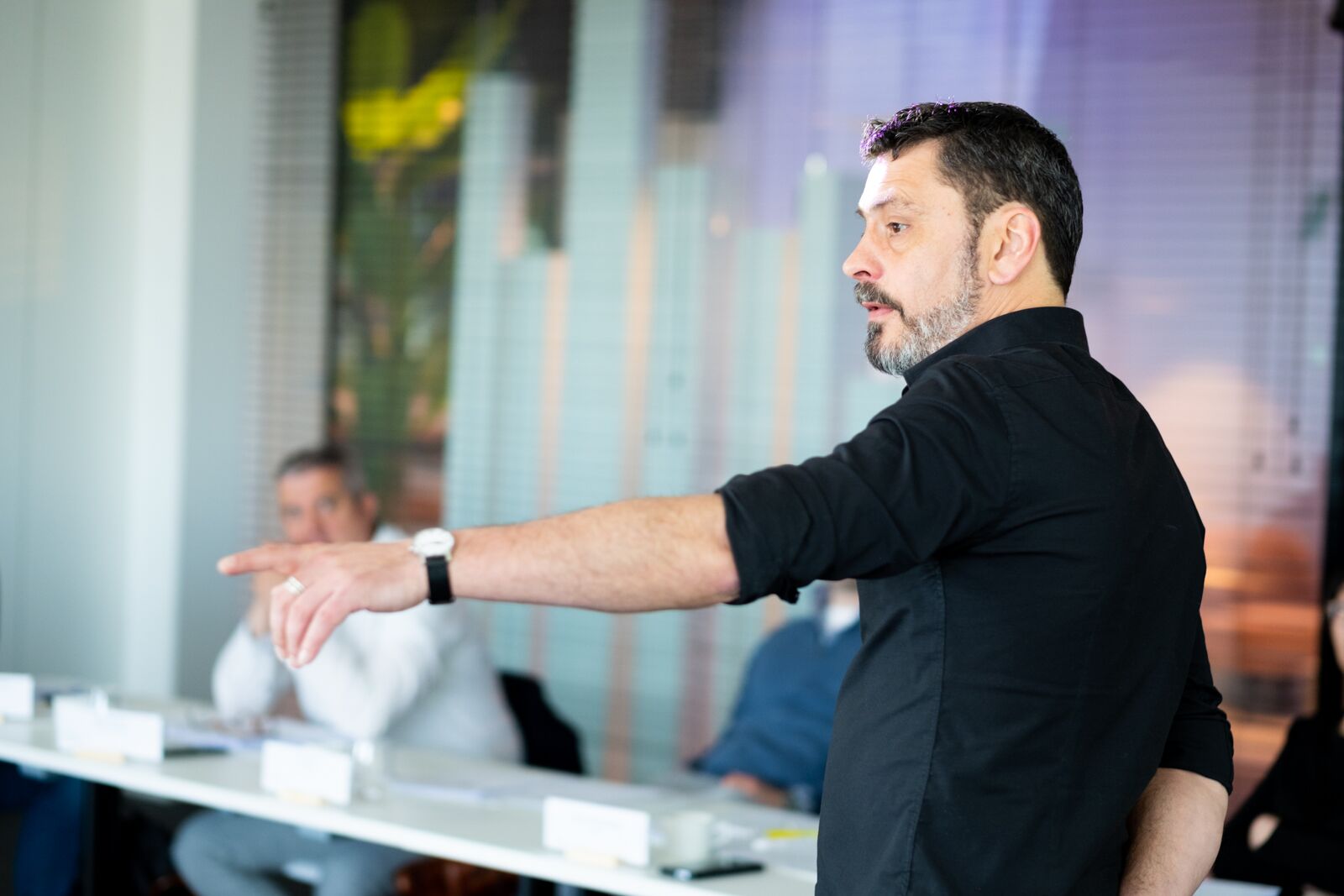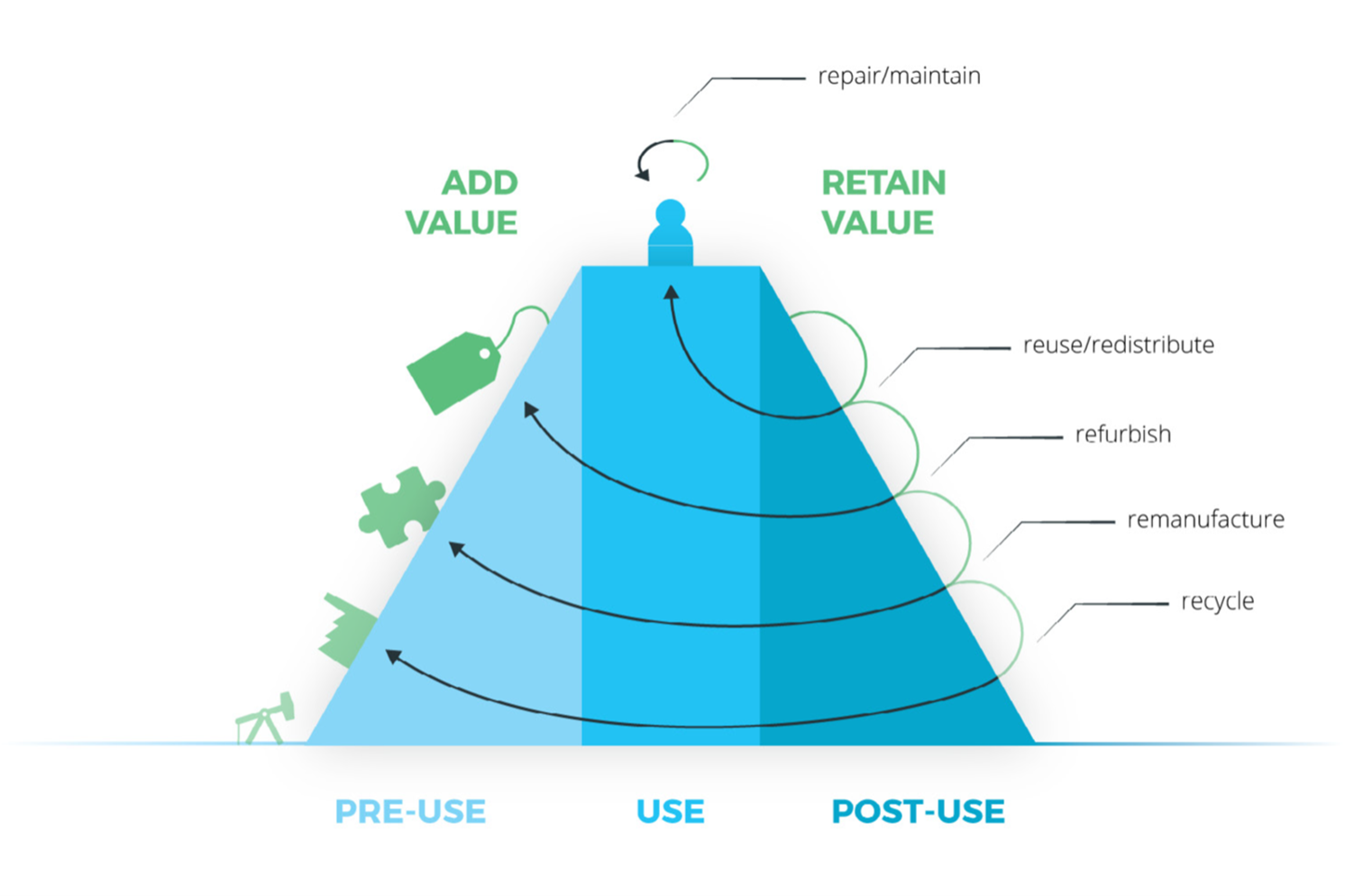 The Value in Circularity
One of the ways to illustrate the basic concept of circularity is the so-called value hill: whereas in traditional, linear supply chains and consumption behavior value is destroyed at the right-hand side of the hill, in a circularly organized ecosystem, the aim is to retain or recover as much value as possible in any stage of the product's lifecycle. It also shows that recycling is the least favorable option, apart from incineration for energy recovery or dumping the waste in a landfill. All other options pose additional challenges for supply chain and distribution activities to enable the closing of the loops. One could easily state that each of these closed loops are supply chains that bend back on itself or (re-)connect to another one, therefore both lowering or even eradicating the use of virgin raw materials and preventing landfills from getting stuffed with single-use disposals. Bringing in my supply chain expertise should help in finding and establishing those supply chain connections while keeping an eye on day-to-day realities and challenges faced by the companies running these different chains. And daily, I keep learning more about circular models and sustainability, and I'm very confident I can already help companies in exploring challenges and opportunities. I'm also not starting from a blank sheet either – and in the meantime, I've been so lucky to participate in several very interesting training programs.

So here I am, ready to share my expertise and insights, and provide extra brainpower to the challenge of the transition where needed. I invite you to browse this website to discover who I am and how I can contribute. And I invite you to reach out to me with all your questions. Who knows, maybe we can find a match and engage in a collaboration to start closing those loops?